PRODUCT LIST

PTFE Thread Seal Tape-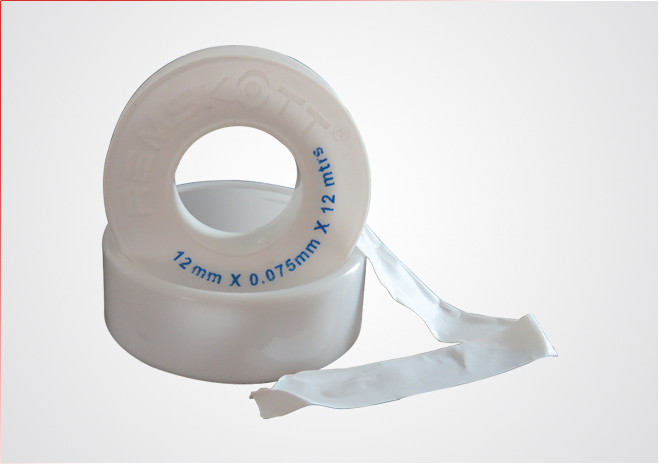 | | | |
| --- | --- | --- |
| BRAND | : | REMSKOTT |
| SIZE | : | 12MM, 19MM, 25MM & Jumbo Roll |
| DESCRIPTION | : | 0.09 Thk X 12 Mtr in Reel |
PHYSICAL/CHEMICAL PROPERTIES
| | | |
| --- | --- | --- |
| Appearance | : | White Tape |
| Density | : | 0.75 ± 0.1 g/cm3 |
| Temperature Range | : | -80° C to +200° C |
| Thickness | : | 0.065 to 0.075 |
| Elongation | : | 50% |
| Shelf Life | : | Indefinite |
| INGREDIENT | : | 99% PTFE |
PTFE Thread Seal Tape-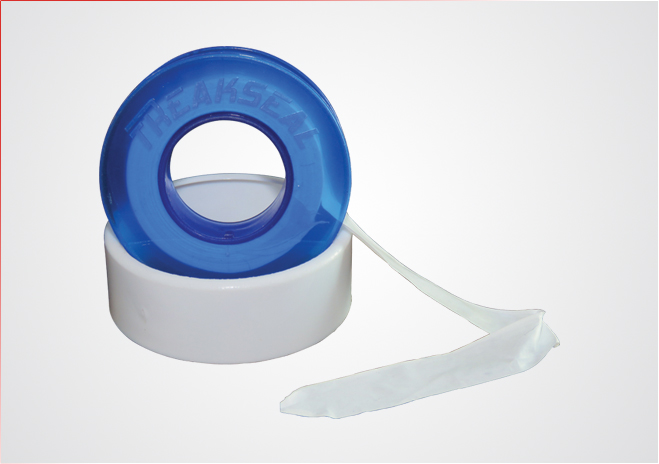 | | | |
| --- | --- | --- |
| BRAND | : | TREAKSEAL |
| SIZE | : | 12MM, 19MM, 25MM & Jumbo Roll |
| DESCRIPTION | : | 0.075 Thk X 10 Mtr in Reel |
PHYSICAL/CHEMICAL PROPERTIES
| | | |
| --- | --- | --- |
| Appearance | : | White Tape |
| Density | : | 0.6 ± 0.85 g/cm3 |
| Temperature Range | : | -80° C to +200° C |
| Thickness | : | 0.065 to 0.075 |
| Elongation | : | 50% |
| Shelf Life | : | Indefinite |
| INGREDIENT | : | 99% PTFE |
For threads up to 1-½ diameter, use 12mm width of thread seal tape. For larger diameter threads, use 19mm or 25mm width of thread seal tape. Clean the male and female threads of any oil or dirt. Apply the thread seal tape a minimum of three wraps, using care to wrap in the direction of the thread rotation. Be sure to keep tension on the tape while wrapping. Do not overlap the tape on the ends of the fittings.
Read all cautions and directions carefully before using this product. Store spool in clean place and keep cover on the spool when not in use.
Treckseal / Remskott PTFE Thread Seal Tape can be used on plastic, brass, copper, aluminum, galvanized steel or black iron piping. NOT FOR USE WITH LINES CARRYING OXYGEN.
Consult SUPREMO Technical Department for applications not specifically referenced above.
Note :- We also supply As per customers requirement